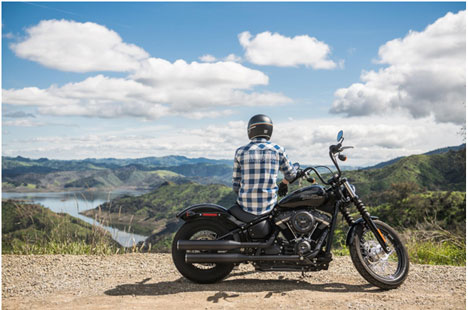 Photo by Unsplash
Ideal Destinations for Your Next Reset Trip
Motorcycling has always been a powerful way to escape the ordinary and explore the open road. For motorcycle enthusiasts looking for ways to recharge and reset, nothing beats a reset trip — an adventure that is more than just a leisurely vacation. Reset trips offer motorcyclists the chance to reconnect with nature, other riders, and themselves in unique and meaningful ways. From the thrill of new trails and terrain to the chance to meet like-minded people, taking a reset trip offers endless potential for growth and exploration. Read on to learn about a few refreshing destinations, courtesy of Throttled Adventures.
The Benefits of a Reset Trip
A reset trip provides an opportunity to take some time for yourself, step away from the hustle and bustle of daily life, and reconnect with nature and your inner self. Reset trips can provide much-needed mental and physical respite from the stresses of daily life, allowing you to come back refreshed, energized, and more focused. Whether it's a weekend camping trip or a week-long excursion to a far off place, taking the time to get away can help you relax and recharge your body and soul.
Make Your Preparations
In addition to preparing your motorcycle for a big trip and packing accordingly, planning ahead at work will ensure more peace of mind when you're away. This includes preparing to leave work behind for a while. In the weeks before your trip, try to get ahead so that you don't feel any pressure as you prepare to leave. Delegate tasks to employees or coworkers, too, or even hire a freelance virtual assistant to manage daily chores while you're away. If you frequently connect with customers or clients, let them know you'll be gone and that you'll be in touch with them as soon as you get back. Give them a temporary contact person in the meantime.
Hit the Grand Canyon
Motorcycling in the Grand Canyon National Park is an incredible experience. With breathtaking views, winding roads and plenty of attractions, the park offers an unforgettable journey for riders of all experience levels. The diverse landscape includes rugged terrain, lush meadows and epic desert landscapes, providing unparalleled opportunities for exploration. Plus, there are numerous nearby attractions to explore – from historical sites to thrilling outdoor adventures – after you've had your fill of the majestic canyon. Whether you're looking for a day trip or a weeklong excursion, a motorcycle journey through the Grand Canyon National Park is sure to be an unforgettable experience.
Enjoy Zion National Park in Utah
Taking a motorcycle trip to Zion National Park in Utah is an unforgettable experience, full of adventure and breathtaking vistas. The rugged terrain and winding roads offer riders a thrilling ride, while the awe-inspiring red rock formations are sure to take your breath away. The park's pristine beauty provides an opportunity for riders to take a break from their everyday lives and reconnect with nature, taking in the fresh air, dramatic scenery, and wildlife. Plus, the area offers plenty of attractions for those who want to explore further or just relax in one of its many scenic spots. Whether you're looking for an exciting adventure or simply some time away from the hustle and bustle of daily life , a motorcycle trip to Zion National Park is sure to leave you with memories that will last a lifetime!
Check Out the PCH
Taking a motorcycle reset trip along the Pacific Coast Highway in California is one of the most exhilarating experiences a person can have. The mix of winding roads, beautiful views, and captivating wildlife make this trip truly special. From the iconic redwood forests near Big Sur to the stunning beaches stretching across southern California, the Pacific Coast Highway offers something for everyone looking to get away from it all. With hundreds of breathtaking stops along the way, you're sure to find plenty of surprises on your journey. Every twist and turn adds something new and unique that will stay with you long after you reach your destination.
Visit the Blue Ridge Parkway
There is no better way to experience the beauty of North Carolina and Virginia than by taking a motorcycle vacation along the Blue Ridge Parkway. From sweeping curves and stunning vistas to miles of open road, the Blue Ridge Parkway provides an unforgettable journey that combines adventure, relaxation and spectacular scenery. The winding roads through the scenic mountain range offer incredible views of waterfalls, overlooks, wildflowers and breathtaking sunsets. Enjoy thrilling twists and turns as you ride through forests, farms, quaint towns and grand cities along the way. A motorcycle ride along the Blue Ridge Parkway is not only an adventure but also a chance to take in some of nature's finest beauty.
Maybe a Permanent Vacation Destination?
So we know that taking a reset trip is a great way to unwind, recharge, and discover new perspectives on life. For many people, however, it can also lead to the realization that investing in a vacation home is an exciting investment opportunity. Before taking the plunge, it's important to understand the associated costs such as repairs, maintenance and upkeep. Additionally, research the market to determine what type of home will best suit your needs and budget. Lastly, explore financing options so you can make the most of your investment without sacrificing financial security.
Take Your Reset Trip
Taking a reset trip on a motorcycle can be a great way to find clarity and reconnect with who you are. It can provide an adventure like no other, freeing you from the grind of daily life and allowing for some much-needed time for yourself. There's nothing quite like discovering new places and meeting new people, all while enjoying the beautiful scenery along the way. So why not go for it? Pack up your bike and hit the open road – you won't regret it, and you may even find an opportunity for a vacation home investment.
Article by Zack Spring